Webinars
Introduction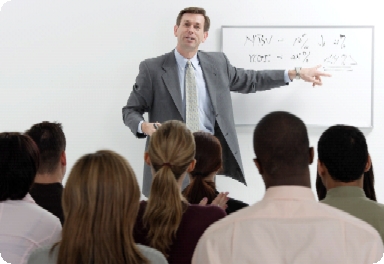 Webinars are business training meetings that are conducted in your own home or business office on your computer while you are listening over the phone or computer no matter where in the world you are located.
You save the time and expense of traveling to distant locations, staying at hotels, gas for your car, meals, etc. Attend from the comfort of your own home or business office.
You will be watching our screen on your computer screen while listening either on your phone or through your computer (we recommend a USB Headset and microphone) while we present a power point presentation with live Internet demonstrations.
Webinars are designed for educational and teaching purposes.
There are three types of Webinars.

They all help you learn to use the Powers of the Internet to generate business.
This is all based on what we have learned and continue to learn in helping 1,000 professional real estate salespeople make money using the Internet for information services not just listing services on the Internet. Consider us as a personal marketing and information assistance to you personally. It is all about working smarter not harder.
Most residential AND commercial orientated Webinars are free to listen in. There are a few that require you have an Executive Membership such as How To Promote Your Web Site.
There are three types of Webinars
Whether you consider yourself a beginner, intermediate or expert Internet user you will learn to increase your real estate business using the Internet by working smarter not harder.
Comments from members who attended Webinars.
I enjoyed working with Gary N. He helped and assisted me with my ici webinar and helped me set up the program. Thanks heaven for his patience. Now I can learn and build up my business the way it should be, amen


---

Q: General Comments:
A: The webinar was very clear.
Q: Relevance to Business:
A: yes
Q: Testimonials:
A: I liked it very much.
Q: Knowledge of subject matter, etc.:
A: good

Q: Relevance to Business:
A: very relevant
Q: General Comments:
A: Very productive 2 hours. Gary answered most of my questions to my satisfaction and where he didn't have time or the answer would have taken too much time, he directed me to the place on the iciworld website where the answer could be found. Time well spent and possibly the beginning of a long term relationship.
Q: Knowledge of subject matter, etc.: A: very high knowledge level.
Q: What areas of improvement if any would you suggest?: A: Seemed just about right. Maybe a few technical glitches that came up, but those weren't detrimental to the overall experience.
Q: Knowledge of subject matter, etc.:
A: tops
Q: Relevance to your business:
A: excellent
Q: Testimonials (if any) and/or nature of any deals you may have done.
A: appreciate follow-up and personal attention
Q: General Comments (Absolutely any comments):
A: We had an issue with Amber's phone not working. But the webinar itself was good and I learned some things, though perhaps not as much as yesterday.
Q: What areas of improvement if any would you suggest?
A: none
If you are concerned about long distance, use your computer to listen. We recommend every member have a USB Headset and microphone($25-$40). It is called VOIP (Voice Over Internet Protoco) and allows you not only to listen anywhere in the world to our Webinar but you can learn to use your computer as a telephone and make world wide phone calls free.*see Call us from around the world - FREE! In other words you can listen in using your computer.
All times are Eastern Time (New York, Toronto time)
See the World time clock to attend from your country and time zone.

Contact us to select a date and time convenient for your office or organization. (up to 1,000 can attend) or . . . for your one one one workshop.
Contact us if you would like to be a guest speaker or have an idea for a guest speaker. If you are an Executive Member, you can conduct an office meeting through the Internet to all your sales staff or real estate board!
The software we use can handle up to 1,000 attendees.
It is approximately $5,000 per year to have the capability to have this many people and we provide this service free at this time for member uses in consideration of allowing us as a sponsor to mention our services.